The South Suburban Council would like to thank the Elks lodge #1596 and particularly William Mier for the kind donation of literature and supplies. The Council is very active within our communities and when local community organizations offer support we accept. The Elks was kind enough to donate hundreds of brochures pertaining to drug and alcohol issues, coloring books, pens, pencils, supplies of all kinds. The South Suburban Council fully supports the Elks DAP Program – Drug Awareness Program which is the largest volunteer drug awareness program in the united states. We look forward to working with the Elks on future Resource Fairs and Events. Your donation will help us both with our mutual goal of promoting awareness. Thank You Lodge 1596!
The Benevolent and Protective Order of Elks welcomes you to the resource center for the Elks National Drug Awareness Program – the largest volunteer drug awareness program in the United States. We are very proud of our dedicated army of volunteers who freely give their time and talents to this most noble cause. The Elks are committed to eliminating the use and abuse of illegal drugs by all members of society and believe that in order to ensure a bright future for our country, it is essential that our children be raised in a drug-free environment. DAP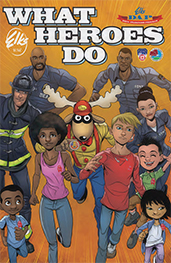 You can view the online version at http://elkskidszone.org/what-heroes-do/.
What Heroes Do: Teacher's Guide
This teacher's guide is brought to you and your students by The Elks Drug Awareness Program (DAP) working in close collaboration with their content partners, the DEA and FDNY.
Chicago (South), IL No. 1596
4428 Midlothian Tpke
Crestwood, IL 60418-1917